<!INSERT TEXT HERE>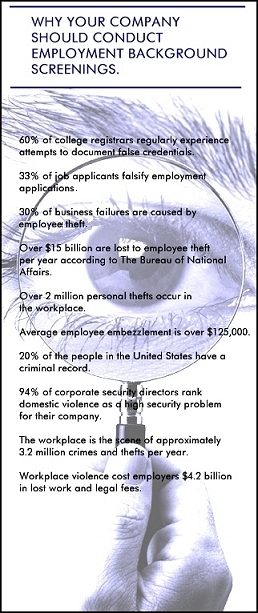 Pre-employment Screening
Billions of dollars are lost by businesses annually due to theft, turnover, training costs, fraudulent insurance claims, drug and alcohol abuse and negligent hiring lawsuits.

Did you know that:
Theft in the workplace costs employers in excess of $15 billion annually, with 30% of all business failures attributed to employee theft.


There are two million incidents of workplace violence annually, including more than 1,000 murders.


A bad hire who leaves a company within six months costs the company approximately $40,000 in severance pay, advertising, interviewing, training costs and loss of productivity.


Theft of proprietary information alone cost 186 companies $151 million in 2000.


The average employee embezzlement exceeds $125,000.


Thirty-three percent of job applications and resumes contain misrepresentations.


Nearly every state has a negligent hiring statute that recognizes an employer is responsible for checking the background and references of a job applicant and can be held financially and criminally liable for the actions of an employee.